I received the following email today:
Bank of Montreal Interac EMT Alert!

You have been sent an INTERAC Email Money Transfer.

Amount: $890.00 (CAD)

Sender's Message: A message was not provided

Action Required: To deposit your money, click here: https://gateway.certapay.com/RP.do?pID=CAuDw9ZQ

Interac Email Money Transfer, BMO Bank of Montreal

What is an INTERAC Email Money Transfer? If you have an email address and online banking password at a participating financial institution, you can send and receive money quickly and easily.
How do I know this a fake? First of all, I'm not expecting $890 from anyone via an Interac e-mail money transfer. It would be nice to get money for no reason but if something seems like it is too good to be true, it is. Criminals are counting on your greed to overwhelm your better judgement.
Secondly, although the link looks like it goes to a Certapay domain, it doesn't (I've modified the url slightly so it doesn't work). It goes to a site with the word "yoga" in the domain. This should be a dead giveaway, except the criminals have created a convincing mock-up of BMO's site as shown below.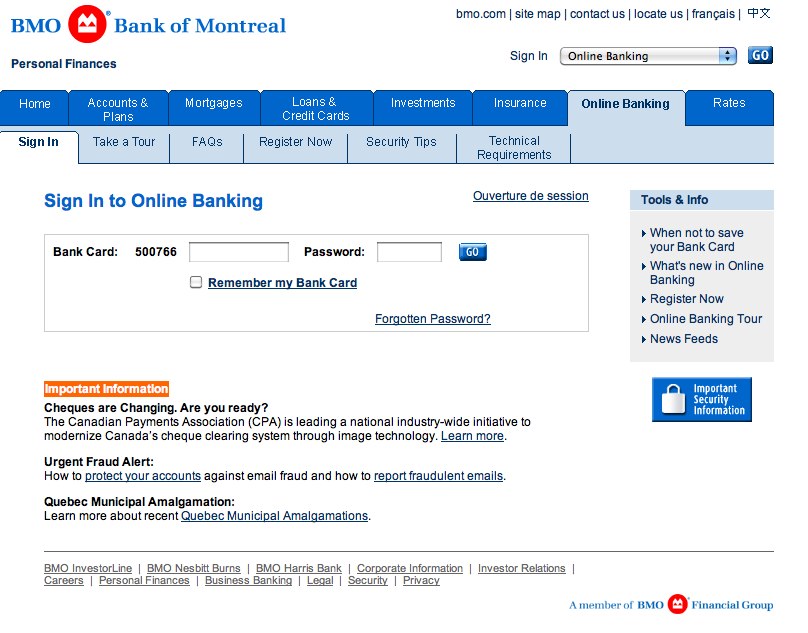 It looks real enough to someone in a hurry, doesn't it? However, a real Interac e-mail money transfer will take you to a page where you can choose which bank to deposit the money into, not the bank of the sender.
If you ever get an e-mail that is supposed to be coming from your bank but you feel it looks suspicious, don't click on any of the links in the email. Call your bank by telephone to inquire about the information in the email. A bank employee can tell you if it is legitimate or not.
These criminals are getting more clever with their tactics and I'd hate to see an unsuspecting business owner get taken advantage of. Be vigilant.